SV Island Time's Northern Chesapeake Bay Journey
by Joyce & Ziya Gun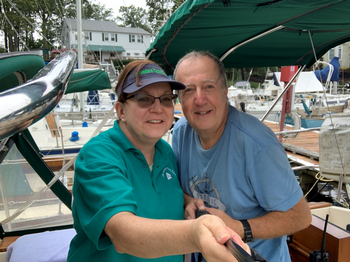 Joyce and I have taken our first long journey on our Island Packet 31, SV ISLAND TIME, between Sunday September 7th and Saturday October 3rd. Although this might be a short trip by many standards, for us it was a next level of experience. During the seven day and six nights cruising, we spent three nights at anchor, two at mooring and one in a marina. Of note, during this COVID pandemic, we found that cruising on our sailboat offered a nice getaway as cruising by boat provides the ultimate social distancing, and when on shore we found that use of masking was practiced by everyone we encountered, additionally, on land we had scenic outdoor restaurant seating available on the occasions we chose to eat out. Generally, we found the combination of anchorage-mooring-and marina stay well suited for us and would like to repeat the same week-long sailing formula in the future. We've been asked to share the story of our trip, and we hope it will provide inspiration for others.
The idea to take a week long sailing trip was formed over a year ego, at the conclusion of the 2019 Seven Seas Cruising Association (SSCA) annual gathering (GAM) which took place at the Maryland Yacht Club over a long weekend in late September. At the end of the GAM last year, Joyce and I decided to take a week off and come to the next GAM this year by boat.
Then the COVID pandemic of 2020 happened. We had reserved one week of vacation time from our jobs, and our GAM was cancelled and we had to make adjustments.
"Let's go cruising" said Captain Joyce, and suggested a trip to the Northern Chesapeake, an area we'd never journeyed to before, and the planning got started. I must admit, I spent more time planning, reading, plotting courses then the actual time it took to sail. As they say, it not the destination, but the journey. Part of our journey was the planning.
Part of our planning was talking to other sailors, especially as we had not sailed on the Northern Chesapeake and we had not undertaken an extended cruise before. BYC has a number of knowledgeable and experienced sailors for whom to draw from for advice. Frank Cingel made suggestions about the itinerary, including the recommendation that we avoid the Delaware Canal due to strong currents; (Joyce was similarly advised when reviewing trip itinerary with colleague and blue water sailor Beth Waddell-Vandegeijn); Richard Payne told us about a wonderful anchorage spot on the Eastern shore, Bruce Kerr provided 'how to' input with many aspects of our boat and Jim Cathcart offered technology support, particularly , we made use of his suggestion that we pay attention to shipping traffic by using MarineTraffic.com. On our part, we made use of Navianics.com for online course plotting, reading up in "Chesapeake Cruising Guide" and made use of Excel spread sheets to record the findings. Big Thanks to our longtime friends Chris and Jane Thorne, who had given us the Chesapeake Bay Cruising Guide as a Christmas present a few years back. We also appreciate our daughters, Denise Gun, and Sarah Gun, who provided pet sitting for our beloved family dog, Logan. (Also, at the end of this story, we also give a big 'shout-out' to Jim Wilson, who 'saved the day' by offering assistance with our sail takedown).
For our sailboat cruising trip, we decided to loosely follow the 'suggested course' of 'Northern Chesapeake Bay 7 day cruise' from the Cruising Guide. I made several versions of tentative itineraries and had Joyce look them over. My goal was to keep the travel under 30 nm/6 hours/day at our comfortable cruising speed of 5 kts. If we were to go faster under sail, so be it.
A week before our departure, Joyce and I made several trips to the stores and the boat to stock up our living quarters for the next 7 days. Fuel was topped off, plus 5 gallons extra in can, water topped off, so were the batteries. On day "0", we brought everything to ISLAND TIME and got ourselves ready.
Sunday, Day 1 - BYC to Rock Hall
We wanted to 'ease' into our trip with a short leg, not to mention we love visiting Rock Hall and enjoying the freshest Rock Fish anywhere above the water surface. One of our sailing friends had told us about mooring balls being available at the Haven Harbor Marina. I called several weeks ahead and reserved one. On an overcast day with calm winds, we motor sailed to Rock Hall/Swann Creek and picked up our mooring ball. Next came the biggest challenge, how to inflate and launch our 10 ft dinghy. We used a small shop-vac to inflate the dingy, while at the mooring ball, using 600W inverter our boat came equipped with. (This inverter also kept our phones, electronics, etc charged at all times.) Once the dingy was inflated, using a spare halyard, I maneuvered the dingy overboard and into the water. I am sure that all the other boaters within view had good entertainment watching my struggles as I was unfamiliar with the process of hoisting a dinghy. But at the end, it was well worth it, as we were able to go ashore and take a short walk to Osprey Point for a delicious rock fish dinner on outdoor seating in a lovely screened porch.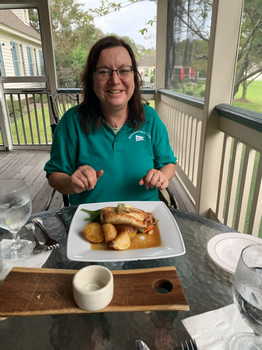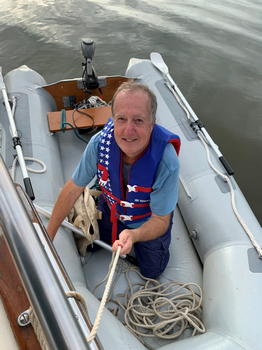 Monday, Day 2 - Rock Hall to Still Pond Creek
We left Rock Hall on a very warm and sunny morning and the promise of 10-15 kt winds. Well, as Jimmy Buffett would say, "Its 10 to 15 knots somewhere" (or something like that), but not where we were. After several hours of bobbing around, we decided to run the engine, again, and head north. Initially we had planned on anchorage at Worton Creek, but it was suggested that we give Still Pond a try. Upon arrival at Still Pond, we negotiated the narrow entrance and found what a hidden gem it is. After we grilled a chicken dinner, we settled in for the most relaxing evening at anchor; it was so relaxing to have the entire place to ourselves, as we were the only boat anchored there.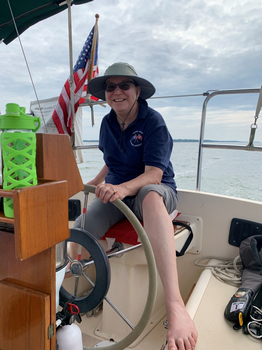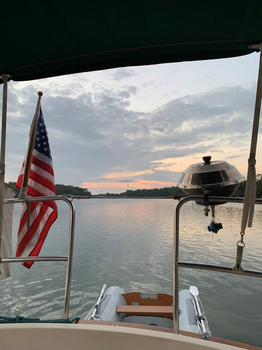 Tuesday, Day 3 - Still Pond to Georgetown on the Sassafras River
With our dingy in-tow, we left Still Pond (promising ourselves to return soon), and this time we did not even bother to hoist sails as there was no wind. We ran the engine all the way to Georgetown and picked up our mooring ball. Georgetown Yacht Basin runs a free water taxi service and we made use of it, and had a late lunch/early dinner at Kitty Knight House on a patio with a wonderful view overlooking the yacht basin, and then retuned to our boat for the evening. (Mentioning here a thumbs-up for on-land showers!) That night, a storm with heavy rain hit the area and we were very glad to be securely tied at a mooring ball.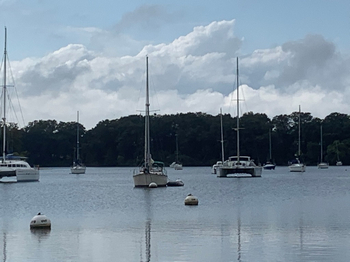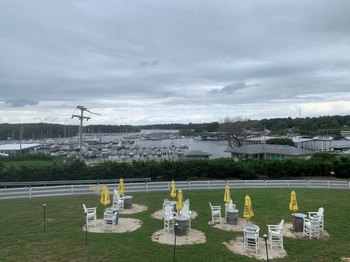 Wednesday, Day 4 - Georgetown to "wherever safe" (aka Turner Creek)
Woke up to a windy day, after a stop at the dock for a fuel top off and a pump out, we headed back toward the Bay. We were experiencing 10-15 knots steady head winds with gusting to 20, and waves about 2 feet as we left the yacht basin. As we approached the last channel marker on the river, still 5 miles shy of the Bay entrance; we noticed that several large vessels had dropped anchor on the river. As we passed the last marker, the wind was blowing steady at 15 - 20 and gusting to 25 kts (Yes I measured it), waves grew to 3-4 feet. Our intended destination was Bohemian River, up the Bay, however, we decided to abandon that plan and find a safe shelter to sit out the hazardous Bay weather conditions. We turned around from the entrance of the Bay to seek calmer waters for safety. Joyce looked in the Chesapeake Bay Guide and found Turner Creek as a safe harbor; fortunately, we were nearly just in front of its entrance. Another sailboat had been motoring behind us, ever since we left the fuel dock in Georgetown. As we turned around, the couple on this boat decided to follow, and using VHF we passed on the information about Turner Creek. This boat followed us in to 'sit it out' as well.
We found Turner Creek to be another very lovely and quiet hide away place, although the wind was raging and we could see the tree tops moving, we had a nice sunny afternoon and pleasant evening at protected Turner Creek. I made a nice meal for dinner in our galley.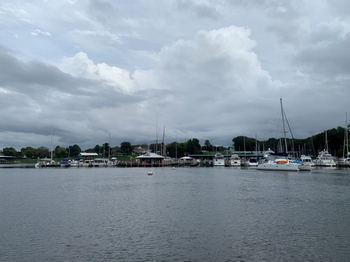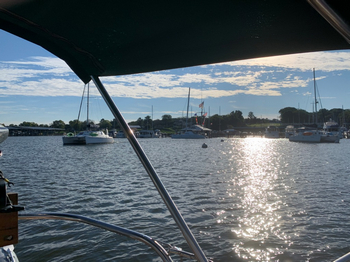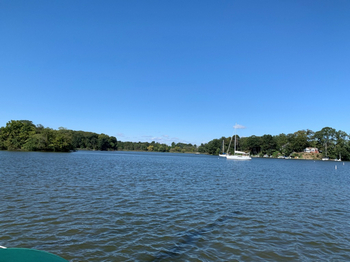 Thursday, Day 5 - Turner Creek to Havre de Grace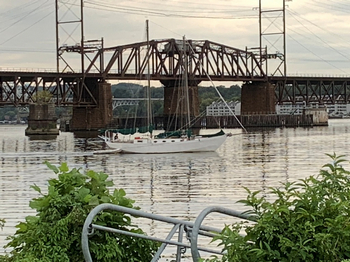 Determined not to tow the dingy behind us any more, we hoisted and deflated it before pulling anchor. We motor sailed the rest of the Sassafras River and across the Bay toward the narrow channel to Havre de Grace and ran the engine the rest of the way up the winding channel. We had reserved a "slip" at the Tidewater Marina, however, the slip turned out to be tie-up at the bulkhead which was inside the marina, and passed all the slips. Given the health requirements, the young lady assisting us with docking and providing us directions was wearing a mask, and our confusion with not being able to understand her directions made me think about the Pink Panther/Peter Seller movies quote, "Do you have a Room?"'A what? A Room'. We finally found a place to tie up, albeit the wrong way!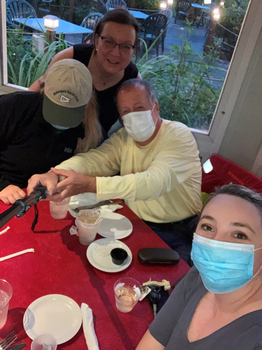 Our daughters came by car to join us for dinner in town and we had a "mini family reunion" at the Tidewater Grille, with waterfront outdoor seating within view of a picturesque setting, including a train bridge over the Susquehanna River.
Again, another big 'thumbs up' for on land showers, trash and recycling dumpsters; they certainly increased our comfort level.
Friday, Day 6 - Havre de Grace to Sue Creek/Middle River
What a day that was!
Finally we had strong, steady winds in favorable directions, after several long tacks across the Bay, we sailed on a starboard tack all the way down the Bay, 10-15 kt and we reached top speed of 6.7 kt under sail. As we passed Pooles Island and decided to roll in our head sail, we realized that the roller furling line was jammed under the drum and would not move. The next hour or so was spent trying to free the line while motor sailing at 3.5 kts due to the wind breaker, aka our head sail. Finally near sun set, the line came free and we made it to Middle River and into Sue Creek; we dropped anchor just behind the Baltimore Yacht Club, with the last rays of sun light.
We cooked a hot meal of vegetable stew and fell asleep soon after, as it had been a great day of sailing followed by exhausting hour of fighting with the sails. Our on board propane heater kept us cozy during the cold night down to 48 degrees.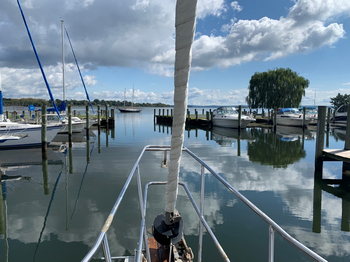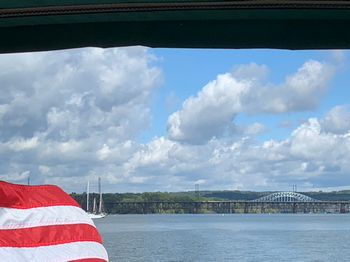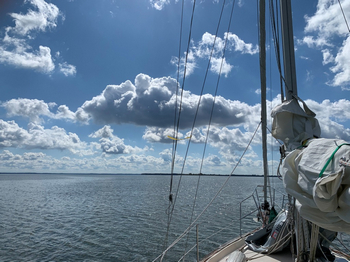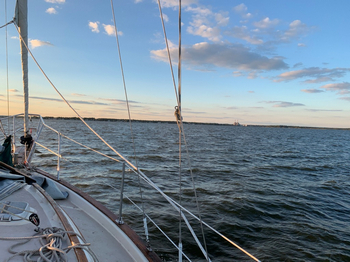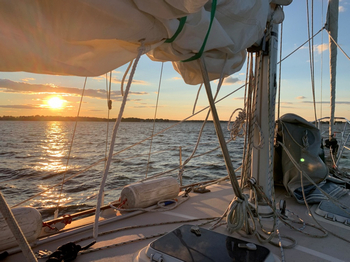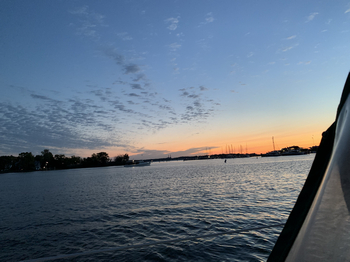 Saturday, Day 7 - Sue Creek to BYC
Woke up to a chilly, sunny and all around beautiful day for our final day on the water. After breakfast on board, we raised anchor and motored home as there was not much wind to speak of. As we approached Magothy River, the wind started to pick up, however after 7 days out on the water, SV ISLAND TIME, it's Captain Joyce and first mate Ziya were ready to return home.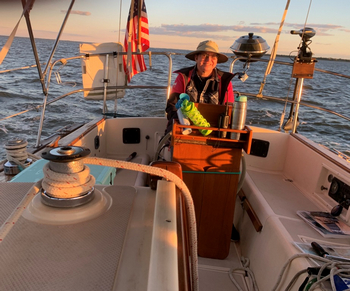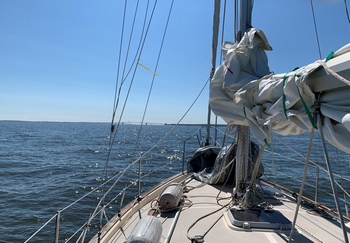 Day 7+ - Small Mishap at BYC
Soon after our arrival at BYC on the previous day, we had realized that our headsail had several small areas of fraying on the outer edges, so we decided to come back and take down the sail for repairs. Jim Wilson happened to be at the club and he kindly offered to help. As I was not paying close attention to what I was doing, yes you can guess it, I inadvertently let the little shuttle loose without yet securing a messenger line to it, and it went up like a rocket. The only way to get it down seemed to be to send someone up the mast on a bosons chair. That was not the way I wanted to end our cruise. Fortunately for us, that is not how this trip ended. The following day, at around noon, I got a call from Jim and he told me that he had "an idea" on how to get the shuttle down without going up the mast. I don't want to spoil the surprise on how he did it, but he managed to get it down from the top of the roller furler without anyone leaving the safety of the deck. If you are interested in this information, ask him!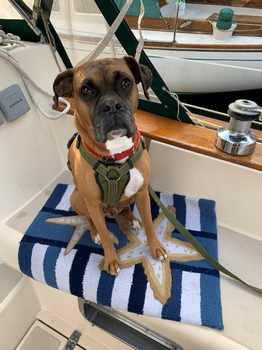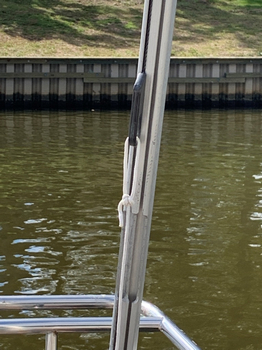 We had a wonderful experience on our first week long cruise and wanted to share it with our boating friends. We are already making plans for our next cruise and wanted to say to all, if we can do it, so can you.
See you on the water.
SV ISLAND TIME
Joyce & Ziya
top
Back